AM1 Alcohol Analyser
A premium, world class system, Analox Analysers offer unparalleled analytical performance and versatility to assist the scientific research markets. The Analox AM1 Analyser is an ultra-fast stand alone system for alcohol analysis in plasma and other fluids. The system offers exceptional precision and accuracy and is used in a variety of applications and fields.
Contact us to find out how the AM1 can assist with your alcohol related testing or for a quote. We also manufacture a range of reagents, kits and standards for use with the AM1 to ensure effective, reliable and reproducible results.
Features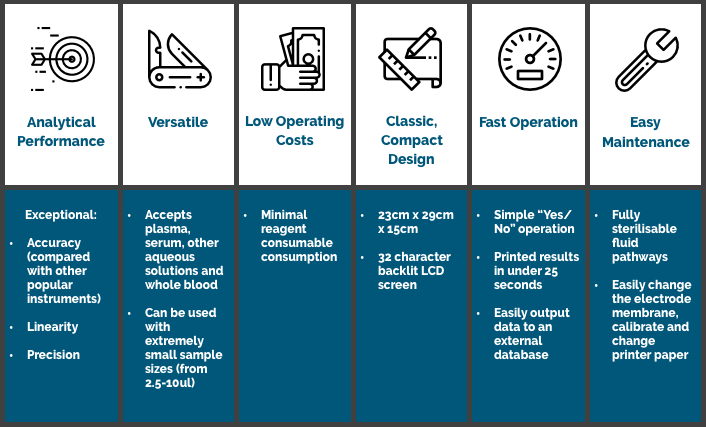 Application Areas


Area

Example Topics

Alcoholism Research

Effects of prolonged alcohol use and binging
Ethanol induced impairment
Neurotoxivity induced by ethanol withdrawal
Impact of alcohol use on cognitive development
Ethanol self-administration tendencies
Fetal alcohol syndrome


Cell Cultures


Tissue toxicity induced by ethanol
Effects of ethanol on cell death
Effects of ethanol metabolism on hepatocyte viability
Effects of ethanol metabolism on cellular replication


Fermentations


In food processing: Converting carbs into alcohol
Biorefining strategy development for fermentative production
Monitoring product changes in food and beverage production including beers and wines


Alcohol Effluent Measurement


Measuring regional alcohol consumption by analysis of waste water



Operation
After calibration with an appropriate standard, the single injection of sample is all that is needed to obtain a result and prepare the analyser for the next analysis.
Sample injection via an accurate positive displacement pipette triggers the complete analytical cycle and a hard-copy result is printed within 25 seconds.

Order Number
Analox-AM1
Analytes
Specification
Instrument Specification
| | |
| --- | --- |
| Method | Enzymatic oxygen-rate |
| Sensor | Clark-type amperometric oxygen electrode |
| Reaction Temp. | 30°C |
| Display | 32 character backlit LCD |
| Printer | Thermal Printer |
| Statistics | Sequential, giving mean, S.D and C.V. |
| Interface | Serial data port |
| Power | 100-250VAC, 50-60Hz, in to Power Supply and 12V , 3.3A DC out |
| Dimensions | 23cm(width) x 29cm(depth) x 15cm(height) |
| Weight | 3.8Kg (Portable, 6Kg) |
Notes:
N/A
Analytical Perfomance
| | Precision | Accuracy (Method Comparisons) | Linearity |
| --- | --- | --- | --- |
| Ethanol (Alcohol) | C.V. of 2.5% @ 18.5 mmol/L (ca. 85 mg/dl) (whole blood) | i) Method comparison for whole blood (neutralised/PCA extract) vs GC: y (Analox) = 1.039x + 0.28 mmol/L, r = 0.991, n = 27 ii) Urine Recovery Data: y (Analox) = 0.981x + 0.19 mmol/L, r = 0.999, n = 17 | 43.0 mmol/L (ca. 200 mg/dl) for 5 µl samples; 86.0 mmol/L (ca. 400 mg/dl) for 2.5 µl samples |
Citations
2019

The role of matrix metalloproteinase-9 in negative reinforcement learning and plasticity in alcohol dependence
Bok Soon Go, Sunil Sirohi, Brendan M. Walker
Addiction Biology January 2019

The a3ß4 nicotinic acetylcholine receptor antagonist 18-Methoxycoronaridine decreases binge-like ethanol consumption in adult C57BL/6J mice
Carley N.Miller, Colton Ruggery, Helen M.Kamens
Alcohol Volume 79, September 2019, pp 1-6

Ethanol induces maladaptive impulse control and decreased seeking behaviours in mice
Phillip Starski, Sa-Ik Hong, Lee Peyton, Alfredo Oliveros, Katheryn Wininger et al
Addiction Biology April 2019

Influence of nonsynaptic a1 glycine receptors on ethanol consumption and place preference
Braulio Muñoz, Scarlet Gallegos, Christian Peters, Pablo Murath, David M. Lovinger et al
Addiction Biology March 2019

Interneuronal d-GABAA receptors regulate binge drinking and are necessary for the behavioral effects of early withdrawal
Laverne C. Melón, James T. Nasman, Ashley St. John, Kenechukwu Mbonu & Jamie L. Maguire
Neuropsychopharmacology Volume 44, pp 425–434

Persistent Alterations of Accumbal Cholinergic Interneurons and Cognitive Dysfunction after Adolescent Intermittent Ethanol Exposure
E.Galaj, B.T.Kipp, S.B.Floresco, L.M.Savage
Neuroscience Volume 404, 15 April 2019, pp 153-164

Scn4b regulates the hypnotic effects of ethanol and other sedative drugs
Yuri A. Blednov, Michal Bajo, Amanda J. Roberts, Adriana J. Da Costa, Mendy Black et al
Genes, Brain and Behaviour Volume 18, Issue 6 July 2019 e12562

DID it or DIDn't it? Exploration of a failure to replicate binge-like alcohol-drinking in C57BL/6J mice
K.Szumlinski, Michal A.Coelho, Kaziya M.Lee, Tori Tran, Kimberly R.Sern, Alexandria Bernal, Tod E.Kippin
Pharmacology Biochemistry and Behavior Volume 178, March 2019, pp 3-18
For the full list of Analox AM1 Citations click here.