LM5 Lactate Analyser
A premium, world class system, Analox Analysers offer unparalleled analytical performance and versatility to assist the scientific research markets. The Analox LM5 Analyser is an ultra-fast stand alone system for lactate analysis in plasma and other fluids. The system offers exceptional precision and accuracy and is used in a variety of applications and fields.
Contact us to find out how the LM5 can assist with your lactate related testing or for a quote. We also manufacture a range of reagents, kits and standards for use with the LM5 to ensure effective, reliable and reproducible results.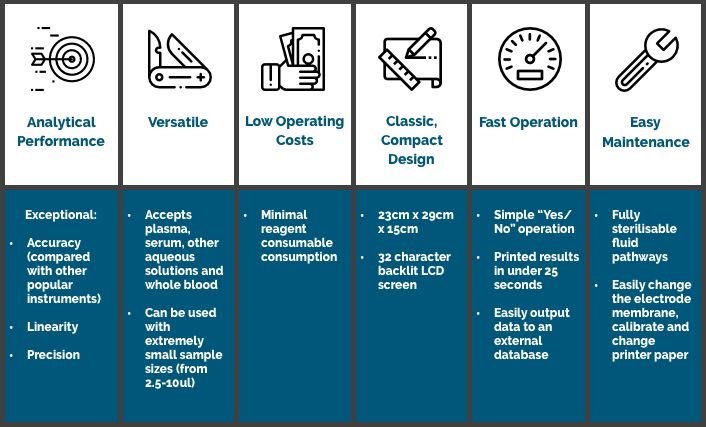 Application Areas
Area

Example Topics

Clinical Pathology


Researching sepsis causes, progression and processes


Sports Science

Using blood lactate levels as a marker for training intensity in a wide variety of sports
Studying the effects of exercise on the body
Studying the effectiveness of post exercise recovery aids
Analysing the effects of conditions and environment on physical performance


Agricultural & Veterinary


As a marker of the presence and severity of tissue hypoperfusion
In diagnosing cavitary effusions


Biotechnology & Pharmaceutical Analyses


Process control in biotechnology (production of lactic acid)
Developing drugs for sepsis

Food & Beverage Analyses


As a marker for spoilage in eggs, milk, tinned fruits and vegetables
Monitoring malolactic fermentation in wine (Oenology)
Improving the flavour and stability of foods

Operation
After calibration with a standard of the selected metabolite, the single injection of sample is all that is needed to obtain a result and prepare the analyser for the next analysis.
Sample injection via an accurate positive displacement pipette triggers the complete analytical cycle and a hard-copy result is printed within 25 seconds.

Order Number
Analox-LM5
Analytes
Specification
Instrument Specification
| | |
| --- | --- |
| Method | Enzymatic oxygen-rate |
| Sensor | Clark-type amperometric oxygen electrode |
| Reaction Temp. | 30°C |
| Display | 32 character backlit LCD |
| Printer | Thermal Printer |
| Statistics | Sequential, giving mean, S.D and C.V. |
| Interface | Serial data port |
| Power | 100-250VAC, 50-60Hz, in to Power Supply and 12V , 3.3A DC out |
| Dimensions | 23cm(width) x 29cm(depth) x 15cm(height) |
| Weight | 3.8Kg (Portable, 6Kg) |
Notes:


Analytical Perfomance
| | Precision | Accuracy (Method Comparisons) | Linearity |
| --- | --- | --- | --- |
| Lactate | C.V. of 2 % @ 2.5 mmol/L | Method comparison for whole blood vs YSI 23L: y (Analox) = 0.98x + 0.055 mmol/L, r = 0.9991, n = 56 | 10 mmol/L (ca. 90 mg/dl) for 7 µl samples |
Citations
2018
Acute effect of different normobaric hypoxic conditions on shuttle repeated sprint performance in futsal players
Pattarawut Khaosanit, Michael J. Hamlin, Kenneth S. Graham, Wanchai Boonrod
Journal of Physical Education and Sport (JPES), 18(1), Art 27 2018 pp. 210 - 216
2016
The impact of short duration, high intensity exercise on cardiac troponin release
Keith P George, Marie Clare Grant, Bruce Davies, Julien S. Baker
Clinical Phisiology and Functional Imaging Volume 36, Issue 4, July 2016, pp 281-285
2014
The Effect of Prior Upper Body Exercise on Subsequent Wingate Performance
Marie Clare Grant, Robert Robergs, Marianne Findlay Baird and Julien S. Baker
Biomed Research International Volume 2014, Article ID 329328

Neuromuscular Electrical Stimulation: No Enhancement of Recovery From Maximal Exercise
John K. Malone, Catherine Blake, Brian Caulfield
International Journal of Sports Physiology and Performance 9 (5) 2014 pp 791-797

RPE-Derived Work Rates Can Be Accurately Produced without External Feedback or Reference to the RPE Scale
Alexis R. Mauger, Tabo Huntley, Iain M. Fletcher
Perceptual and Motor Skills Vol 118, Issue 2, 2014
To view the full list of Analox LM5 Lactate Analyser Citations click here.
Testimonial
"I have used the LM5 Lactate Analyser in past research of whole blood, plasma, or serum lactate levels during changing metabolic demand, such as during exercise or hypoxic exposures. I always found this analyser to be cost effective, time efficient, and irreplaceable in circumstances where immediate blood lactate results are needed to ascertain cellular or systemic responses to altered muscle metabolic demand. This is especially important in field research where and when you do not have the resources or capacity to adequately process and store human samples for latter analyses. This instrument should be in every exercise, sports and basic science physiologist's laboratory arsenal of equipment."
Robert A. Robergs, Professor of Exercise Physiology & Biochemistry School of Exercise and Nutrition Sciences, Queensland University of Technology, Brisbane, Australia