GL5
A premium, world class system, Analox Analysers offer unparalleled analytical performance and versatility to assist the scientific research markets. The Analox GL5 Analyser is an ultra-fast stand alone system for analysis of a range of chemistries in plasma and other fluids. The system offers exceptional precision and accuracy and is used in a variety of applications. It is delivered pre-programmed for Glucose, Lactate, Cholesterol and Alcohol with one spare channel.
Contact us to find out how the GL5 can assist with your research or for a quote. We also manufacture a range of reagents, kits and standards for use with the GL5 to ensure effective, reliable and reproducible results.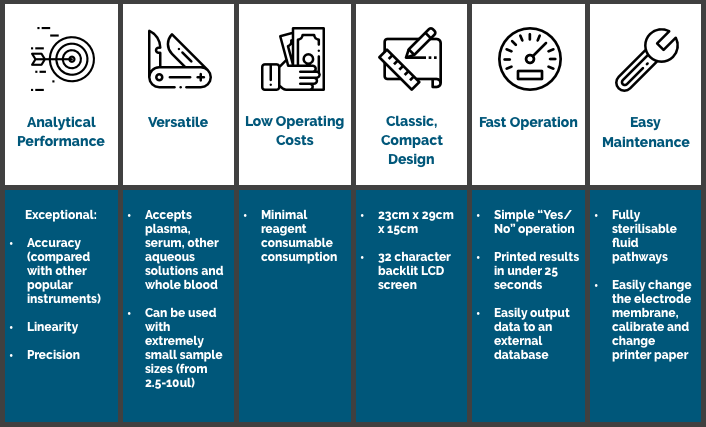 Application Areas
Area
Example Topic
Diabetes Research


Potential causes of type 1 diabetes
Testing a type 1 vaccine


Clinical Pathology


Researching sepsis causes, progression and processes


Alcoholism Research


Effects of prolonged alcohol use and binging
Ethanol induced impairment
Neurotoxivity induced by ethanol withdrawal
Impact of alcohol use on cognitive development
Ethanol self-administration tendencies
Fetal alcohol syndrome


Sports Science/Exercise Physiology


Using blood lactate levels as a marker for training intensity in a wide variety of sports
Studying the effects of exercise on the body
Studying the effectiveness of post exercise recovery aids
Analysing the effects of conditions and environment on physical performance


Sports Medicine Research

Studying External Iliac Artery Endofibrosis in cyclists

Operation
After calibration with a standard of the selected metabolite, the single injection of sample is all that is needed to obtain a result and prepare the analyser for the next analysis.
Sample injection via an accurate positive displacement pipette triggers the complete analytical cycle and a hard-copy result is printed within 25 seconds.

Order Number
Analox-GL5
Analytes
Alcohol
Glucose
Glycerol
Lactate
Triglycerides

Specification
Instrument Specification
| | |
| --- | --- |
| Method | Enzymatic oxygen-rate |
| Sensor | Clark-type amperometric oxygen electrode |
| Reaction Temp. | 30°C |
| Display | 32 character backlit LCD |
| Printer | Thermal Printer |
| Statistics | Sequential, giving mean, S.D and C.V. |
| Interface | Serial data port |
| Power | 100-250VAC, 50-60Hz, in to Power Supply and 12V , 3.3A DC out |
| Dimensions | 23cm(width) x 29cm(depth) x 15cm(height) |
| Weight | 3.8Kg (Portable, 6Kg) |
Notes:
Example data below, please see GL5 Brochure or Analyte Technical Bulletins for full specifications and additional method comparison.
Analytical Perfomance
| | Precision | Accuracy (Method Comparisons) | Linearity |
| --- | --- | --- | --- |
| Glucose | C.V. of 1.0% @ 5 mmol/L (plasma) | Method comparison vs Hexokinase y (Analox) = 0.985x - 0.14 mmol/L, r = 0.999, n = 156 | 30.0 mmol/L (540 mg/dl) for 10 µl samples |
| Lactate | C.V. of 2% @ 2.5 mmol/L | Method comparison for whole blood vs YSI 23L: y (Analox) = 0.98x + 0.055 mmol/L, r = 0.9991, n = 56 | 10 mmol/L (ca. 90 mg/dl) for 7 µl samples |
| Alcohol | C.V. of 2.5% @18.5 mmol/L (ca. 85 mg/dl; whole blood) | Method comparison for whole blood (neutralized PCA extract) vs GC: y (Analox) = 1.039x + 0.28 mmol/L, r = 0.991, n = 27 | 43.0 mmol/L (ca. 200 mg/dl) for 5 µl samples |
Citations
2019
Nucleus reuniens of the midline thalamus of a rat is specifically damaged after early postnatal alcohol exposurem Zachary Gursky, Lisa Savage, Anna Klintsova, NeuroReport, July 2019, Volume 30, Issue 10, pp 748-752

Neonatal ethanol exposure impairs long-term context memory formation and prefrontal immediate early gene expression in adolescent rats Nicholas A Heroux, Patrese A Robinson-Drummer, Malak Kawan, Jeffrey B Rosen, Mark E Stanton Behavioral Brain Research, February 2019, Volume 359, pp 386-395
Cholinergic rescue of neurocognitive insult following third-trimester equivalent alcohol exposure in rats Nicholas A Heroux, Colin J Horgan, Jeffrey B Rosen, Mark E Stanton Neurobiology of Learning and Memory, June 2019, Volume 163
Operant, oral alcohol self-administration: Sex differences in Sardinian alcohol-preferring rats Irene Lorrai, Andrea Contini, Gian Luigi Gessa, Claudia Mugnaini, Alcohol, Volume 79, September 2019, pp 147-162
2018
Sex Differences in Early Postnatal Microglial Colonization of the Developing Rat Hippocampus Following a Single-Day Alcohol Exposure M. J. Ruggiero, K. E. Boschen, T. L. Roth, A. Y. Klintsova, Journal of Neuroimmune Pharmacology June 2018, Volume 13, Issue 2, pp 189–203

Methamphetamine-Induced Brain Injury and Alcohol Drinking Amanda L. Blaker, Bryan K. Yamamoto, Journal of Neuroimmune Pharmacology March 2018, Volume 13, Issue 1, pp 53–63
Physiological determinants of walking effort in older adults: should they be targets for physical activity intervention? Dain P. LaRoche, Edward L. Melanson, Morgan P. Baumgartner, Breanna M. Bozzuto, Victoria M. Libby, Brittany N. Marshall, GeroScience, June 2018, Volume 40, Issue 3, pp 305–315
Nocturnal Hypoxia Improves Glucose Disposal, Decreases Mitochondrial Efficiency, and Increases Reactive Oxygen Species in the Muscle and Liver of C57BL/6J Mice Independent of Weight Change Simona Ioja, Srikanth Singamsetty, Catherine Corey, Lanping Guo, Faraaz Shah, Michael J. Jurczak,Bryan J. McVerry, Sruti Shiva, and Christopher P. O'Donnell Oxidative Medicine and Cellular Longevity Volume 2018, Article ID 9649608